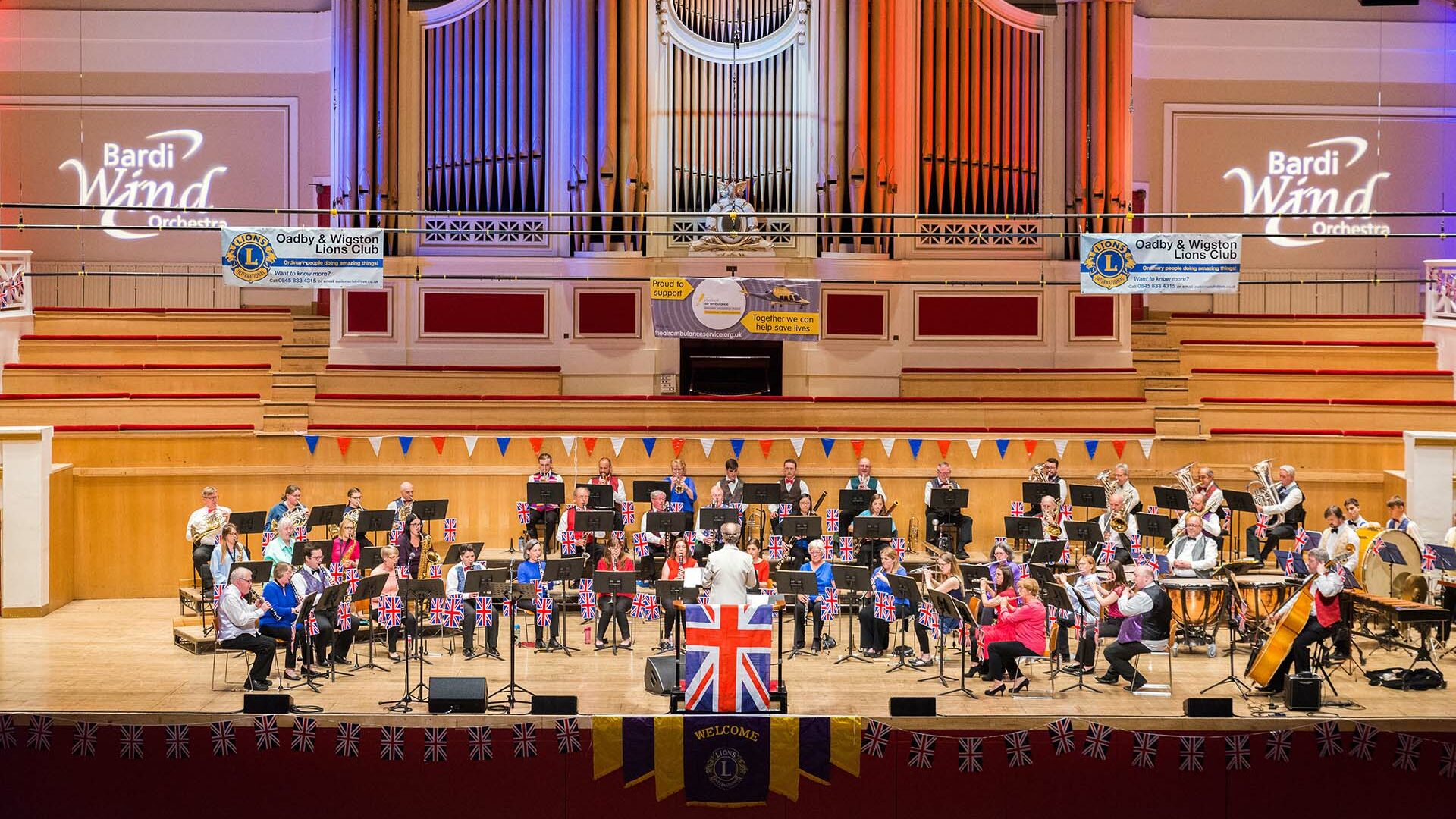 30 Years of the Bardi Wind Orchestra
Latest from the Bardi Wind Orchestra
---
The Bardi Wind Orchestra was founded from the extended wind, brass and percussion of the Bardi Symphony Orchestra by Robert and David Calow in 1992.
This Leicester-based ensemble was formed with the aim of performing the original repertoire written for 'symphonic winds', from the works of Holst, Grainger and Vaughan Williams to the 'High School Band' works from America by Stravinsky, Schoenberg and Hindemith. More recent concerts have shown the lighter side of the symphonic bands' repertoire with selections from shows, the movies, TV themes and pop music.
Martin Slipp was the conductor for the Orchestra's first two concerts after which David Calow was appointed Music Director. David has conducted every concert since.
The Bardi Wind Orchestra concerts are now much anticipated events drawing large and enthusiastic audiences to the high-profile Summer Charity Gala Concerts at De Montfort Hall, the Christmas Festival Concerts at Holy Trinity Church on Regent Road and the popular summer Bradgate Park and Hinckley Prom concerts.
Since 2004 the Bardi Wind Orchestra has supported:
Rainbows Hospice (2004, 2005, 2010) / Lord Mayor's Kidney Care Appeal (and 100 years of the Leicester General Hospital 2005) / LOROS (2006, 2008) / HOPE Against Cancer (2007, 2013)/ Celebrating Leicester hosting the Special Olympics (2009) / Help for Heroes (2011)/ ABF (The Soldiers' Charity, 2012) / Leicester Children's Holiday Centre in Mablethorpe (2014)/ Wishes 4 Kids (2015)/ Menphys (2016)/ Motor Neurone Disease Association (2017)/ East Midlands Congenital Heart Centre (2018)/ Leicestershire & Rutland Air Ambulance (2019, 2022).